Video: Post-Corona, a new "normal"?
Coping with COVID-19: an Ignatian approach by Fr. John Dardis, S.J. The video is a part of the series by Jesuits.global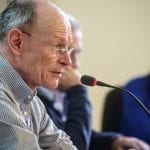 Fr. John Dardis, S.J.
General Counsellor for Discernment and Apostolic Planning and Director of Communications in the General Curia of the Society of Jesus in Rome.